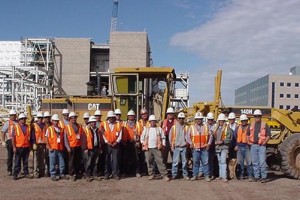 Although contract awards are often based on competitive pricing and technical competence, gaining a client's repeat business requires a relationship based on trust and straightforward communication.
The Ricor Team is made up of individuals who understand that the complexity and urgency of today's construction projects must be addressed with diligence and integrity.
The field crews, maintenance mechanics, office staff, and management team all share this attitude of client service. At Ricor, we make great efforts to maintain our equipment, our relationships, and our reputation.
Wayne Rawlings – President
Jorge Hahn – Executive Vice President
Roger Rowley – Vice President – Utilities Division
Jim Thompson – Vice President of Operations
Steve Rawlings – Construction Manager
Mike Behling – Senior Estimator – Utilities
Dave Ross – Estimator
Tim O'Connell – Project Manager/ Estimator
Dennis Rawlings – Estimator
Mark Rawlings – General Superintendent
Mike Clark – CFO/Controller
John Sipe – Equipment Manager